Even though August is coming to an end, Summer is still in full swing! I hope you all have been enjoying your time in the warmer weather, I've certainly been keeping busy. In my last post, I mentioned that I commissioned my first illustration and today I'm excited to share the final artwork with you! (Dog lovers, get ready for this!)
In late July, my friend Chelsey reached out in regards to a hand-drawn illustration for her new business endeavor, The PupCakery. Her local Rhode Island business is set to launch in April 2016 and will be selling a line of "wholesome, healthy, delicious snacks" for dogs with sensitive stomachs. The best part about The PupCakery is that it will be donating 10% of profits to local animal shelters. Chelsey's inspiring story behind this venture can be read here!
As a dog lover myself, I was naturally excited to help bring this brand to life! The original request was to draw Chelsey in a baker's coat with her dog, Rex, sitting or hopping up next to her. We bounced around creative ideas for a couple weeks and then I finally began working. As you can see below, the first sketch I did was very rough. I then sent it to Chelsey for feedback and did further refinements; she was now wearing flats rather than heels, smiling, and her hands actually looked like hands.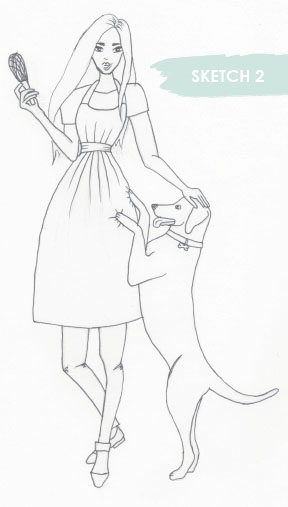 After I was given final approval, I began inking with Copic markers which is where the real magic happens. Within several hours I was scanning the completed sketch into Photoshop, making color adjustments, and placing The PupCakery's logo alongside it. The final composition below is probably one of my favorite pieces to date and it goes to show that practice makes perfect, or at least closer to perfect.
It was a joy to work with Chelsey and I'm so excited to see The PupCakery at local farmer's markets and shops next Spring. Please visit their GoFundMe page to learn more about this company – any donations will greatly help their start-up costs! As always, it's been great sharing my latest work and I hope to inspire you to keep working towards your goals.
If you haven't already, make sure you are subscribed – there are some HUGE changes coming to the blog in September and you don't want to miss it!